Take Charge of Your Icy Runways TODAY! Work Smarter, NOT Harder! Purchase Airport Brine!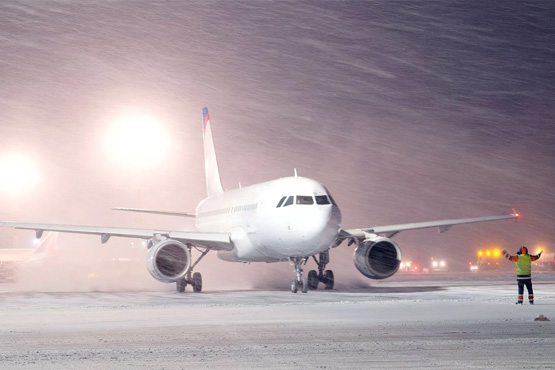 Prevent Accidents Reduce Employee Slip and Falls!
Take steps to prevent workplace accidents and injury with ice and snow preparation and quicker, more effective removal! Airports have the responsibility to care for their employees, massive equipment, and travelers. Appling Airport Brine before a winter storm is a crucial step to increase travel safety for all parties. Apply to runways, walkways, parking lots, and any hard surface surrounding your airport.
Steps are no longer treacherous

Never slide down your driveway again

Be the neighborhood champion of side walk safety
Apply Airport Brine Easily! Brine Before the Storm to Create a Barrier
Brine has been used for years to keep roads safer, Airport Brine offers the amplified level of safety that we have come to expect in our commuting culture. Airport Brine is available in unlimited quantities to cover any size facility. Our team of experts is also available to custom install a brine system specifically for your location.
For your quantity reference: 1 gallon of brine will cover 800-1000sq ft
1 gallon of brine will cover 800-1000sq ft

5 gallons will cover up to 5,000 sq ft

Liquid brine is safe: it won't damage your lawn and is pet friendly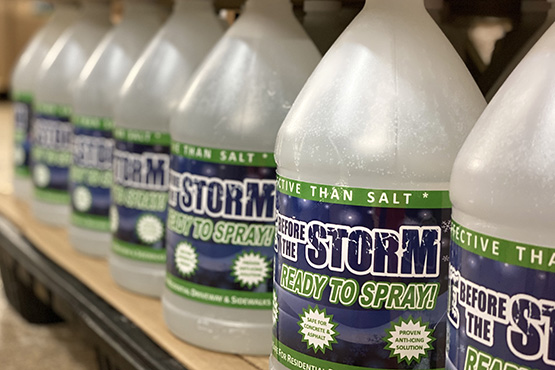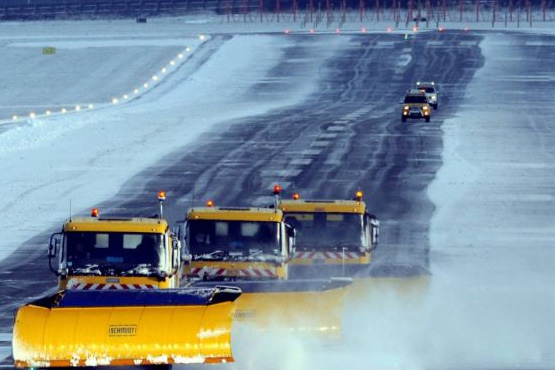 Reduce Your Work Quicker and Easier Ice Removal, Less Mess!
Reduce shoveling, scraping, and mopping with Airport Brine and work smarter, not harder.
Airport Brine forms a barrier between the surface and the snow, so since ice never adheres it can be easily removed without trouble

Keep travelers in the air and avoid travel delays with clean, safe runways

Airport Brine does not track salty footprints, so no additional mopping is required
More About Airport Brine Airport Brine is the most effective Anti-Ice solution available to Airport Facilities!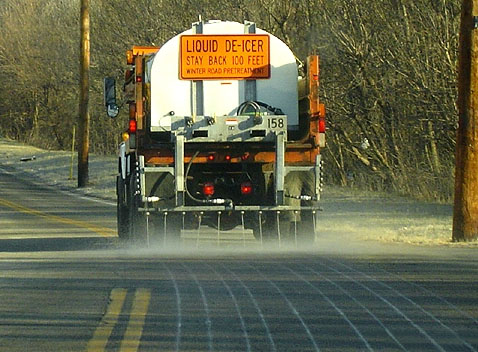 The Secret Weapon Against Ice
Airport Brine is the latest advancement in weather preparedness and travel safety. The Airport Brine solution is approved for commercial use and improves safety when applied to hard surfaces before winter weather. Prewetting with this substance prevents snow and ice from bonding with surfaces, making the ice easier to chip off and remove.
Similar to traditional rock salt, brine can melt ice at temperatures as low as -6°F (-21°C), but it beats salt in every other respect!
The product is similar to what commercial road-safety contracting companies use to treat and townships' icy surfaces in winter: you may have seen a brine truck in your location spraying roadways in advance of a winter storm – this is now possible at your facility with Airport Brine.
Frequently Asked Questions About Airport Brine
How do I purchase Airport Brine?
Check out our shop for a wide variety of residential brine products and application systems. Take your weather preparedness and snow removal to the next level and outfit with Airport Brine. RoadBrine
How long does it take to work?
The key to Airport Brine is to Brine Before the Storm! If you apply 1 – 2 layers of Airport Brine before winter weather starts, the barrier immediately forms and starts protecting your property from snow and ice.
What's the best way to apply it?
Anything from a simple hand pump to a custom product holding system and spray rig can be used to apply Airport Brine. Contact our team to discuss your goals.
Is Airport Brine safe?
Airport Brine is totally safe for the flora and fauna environment, as well as promotes safety in the property surrounding your facility.
Can I purchase larger quantities?
We are serious about supplying brine in any quantity to ensure the well-being of everyone. Check out RoadBrine.com for more about our commercial brine production options.
Why don't more people use Airport Brine?
Airport Brine is a product that is steadily emerging into commercial use after being exclusively used by municipalities for the past decade. Brine has proven itself to be safer for streets than rock salt and Airport Brine is proud to offer that same level of protection to the heart of tourism.
Take Charge of Your Icy Runways TODAY! Work Smarter, NOT Harder! Purchase Airport Brine!